Photo Finish
Improve the radiance of your skin, smooth the skin surface and tighten pores whilst maintaining facial mobility and expression.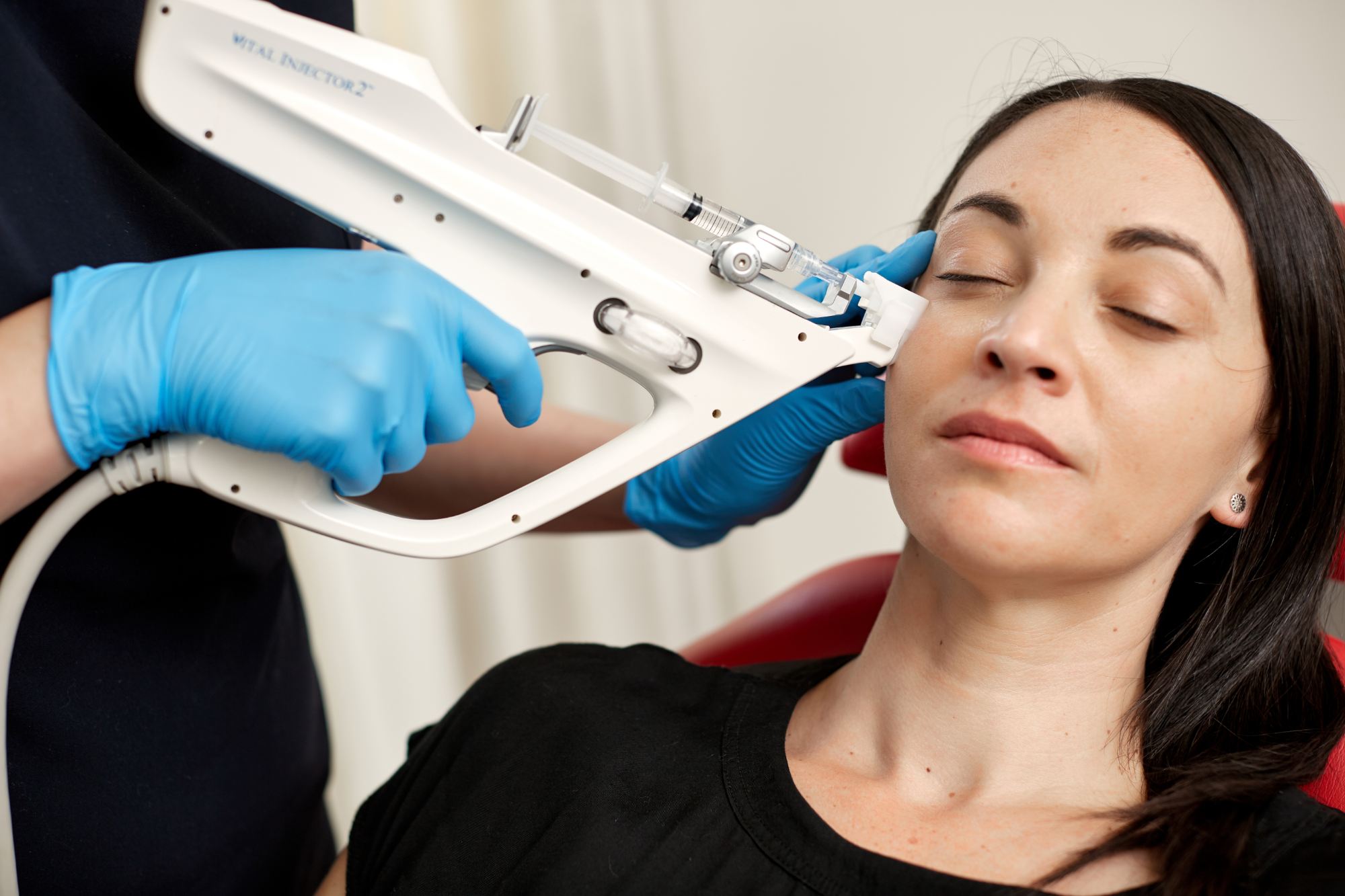 Fast becoming one of our most requested treatments; our unique PhotoFinish treatment combines Hyaluronic Acid (HA), with Botulinum Toxin to present a revolutionary way of creating a smoother, more softened look.
What is Photo Finish Treatment?
Photo Finish combines hyaluronic acid (HA), a substance naturally occurring in our body, with botulinum toxin. It is delivered via the V2 gun into the superficial layers of the skin. Micro-needles deliver small amounts of the product under the skin, softening the action of the of the superficial facial muscles thereby smoothing fine lines.The output of sweat and sebaceous glands is reduced, helping to minimise the appearance of pores. The needle delivery system also encourages collagen stimulation.
Are there any side effects and is there any downtime after the treatment?
Side effects and downtime are minimal. Some patients may experience bruised and blotchy skin, which can take up to 4 – 5 days to settle. Mineral make-up can camouflage this.
How do I prepare for the treatment?
Stop all supplements that contain fish oil, flax seed oil, garlic, gingko, green tea, non-steroidal anti-inflammatories, and Aspirin for 72 hours prior to treatment. PLEASE NOTE: Do not stop aspirin if you are taking this for medical reasons and have been prescribed this by your GP.  Alcohol and caffeine should be reduced for 24 hours prior. These measures help limit bruising and bleeding.
What post care advice I should follow?
Avoid active ingredients in skin care for 24 hours post treatment. We also recommend you avoid strenuous exercise for 24 hours. If any lumps are present, lightly massage the area after 48 hours.
When will I see results and how long does the treatment take?
You will see results in 5 days to 2 weeks.
Please allow two hours for the procedure, which will include time for us to apply a topical anaesthetic to minimise discomfort. The treatment itself can vary depending on the area being treated and can take anywhere from 20 – 40 minutes.
What areas can be treated?
The face, or neck and chest are the commonly treated areas, but any area of the skin may be treated.
Am I suitable for this treatment?
Patients who have been unwell with any type of infection or virus in the past 3 days, taken Prednisone or any anti-coagulation therapy, pregnant or lactating women cannot receive treatment.
How much does it cost and how long will the treatment last?
The cost is $1,100.00 per treatment.
Treatment results will last approximately six months. We recommend a six-monthly regime to achieve maximum benefit.  Effects of this treatment are temporary. Longevity depends on several factors – skin type, age, and treatment area.